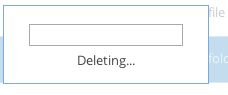 Well It turned out that my clever program made 2,678,963 files & directories.
The directories and files where being created so fast dropbox struggled to keep up. It seemed to sync changes in batches.
This lead to an interesting problem on my other machines which dropbox sync'd to.
Then my iMac / Macbook Air fans turned on. The cause
Turns out spotlight was indexing the newly created files. The files are all text files without an extension. They all contained content like this
Since OSX 10.6 spotlight attempts to magically determine file types by inspecting the files contents. The result is a lot of wasted clock cycles and slow machines.
Realising the errors of my ways I decided to delete the problem directory. Dropbox on my work mac is still locked up attempting to add files to the folder so that won't work. Plus I'm at home.
So I guessed the best way to do this was via the web site
So I log in
Selected the folder 'BBC' for deleting
Yes I'm sure
and waited......
and waited some more.....
You have got to be kidding!Who told me to do this!